Advertisement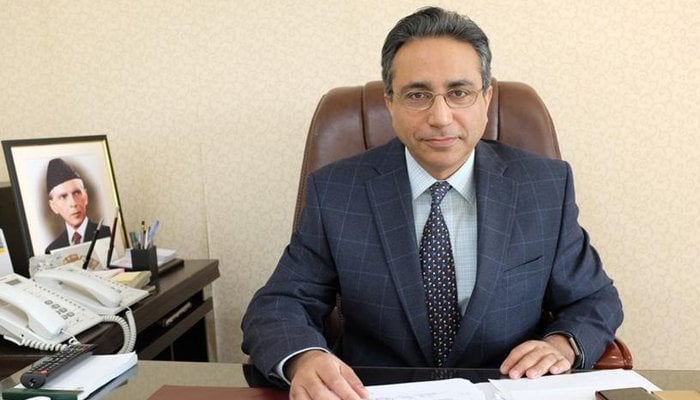 ISLAMABAD: Special Assistant to the Prime Minister on Petroleum Nadeem Babar has been asked by Prime Minister Imran Khan to resign from his post.
This was revealed by Planning Minister Asad Umar in a press conference on Friday during which he discussed the findings by the Federal Investigation Agency in a probe ordered by the premier to ascertain the reasons behind petroleum shortages in the country.
"Secretary for Petroleum Division (Mian Asad Hayauddin) will also be asked to report to the Establishment Division once his replacement is finalised," Umar said.
Umar, in his detailed media briefing, went over the final recommendations made by the cabinet committee formed by the premier to conduct the probe.
The committee included Umar himself, along with federal ministers Shafqat Mehmood, Azam Swati, and Shireen Mazari.
"We forwarded our recommendations to the prime minister, after which he asked for some additional information. When some more information came to the fore, we were given the go-ahead to share our recommendations," said the minister.
Asad Umar said that in the past, the Petroleum Division used to put all the responsibility on the shoulders of the Oil and Gas Regulatory Authority (OGRA) whenever questions related to petroleum shortages were raised.
Advertisement
"We have to end this ambiguity," said Asad Umar. "There are very few penalties for those who harm the economy. The mafia which is working to loot people's money, Prime Minister Imran Khan won't spare them."
"This is a message from Prime Minister Imran Khan to the mafia that their time is up," the planning and development minister maintained.
Answering a question, Asad Umar said that there is no doubt in believing that the responsibilities given to some state institutions were not duly fulfilled.
"We have to find out why the institutions could not perform and ascertain whether this is due to the prevalence of corruption," he said, adding that it is important to discover the names of the people who have not been doing their jobs properly and whether they have any accomplices.
Adding to Asad Umar's point, Minister Shafqat Mehmood said that Nadeem Babar and Secretary Petroleum have been asked to resign so as not to affect the inquiry.
More to follow.
Advertisement